What is a National Marine Conservation Area?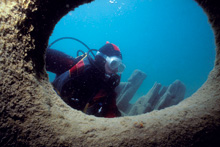 A diver is exploring a shipwreck in Fathom Five
© Parks Canada / J. Butterill
From the Atlantic to the Arctic to the Pacific and the Great Lakes, national marine conservation areas (NMCA) are protected areas which represent the diversity of Canada's marine environments. Big or small, each NMCA includes a set of features which ensure that a healthy ecosystem is maintained.
For the people of Canada and the world, of today and tomorrow, NMCAs provide opportunities to appreciate and enjoy Canada's natural and cultural marine heritage. Plus, healthy marine environments are fundamental to the social, cultural and economic well-being of people living in coastal communities, as well as all Canadians throughout the country.
Sea stars at low tide in Gwaii Hannas
© Parks Canada / C. Cheadle
A spirit of cooperation is key to the success of NMCAs! The planning and management of NMCAs requires active participation by all those involved, including coastal communities, industry, federal and provincial or territorial departments and agencies, Aboriginal governments and organizations, and all other interested groups.
Sound management of NMCAs is important in order to preserve the balance in natural marine ecosystems. Zoning is an indispensable tool to achieve this, setting aside high protection areas as well as zones where ecologically sustainable use of living resources is permitted. These zones allow us to reach our goals related to protection and use.
By establishing a network of NMCAs that will represent each of the Canada's 29 marine regions, we are investing in protecting our blue planet. Parks Canada is thus contributing to national and international efforts to establish a network of marine protected areas in Canada and abroad.
To date, Parks Canada is responsible for four NMCAs. Our newest, Gwaii Haanas National Marine Conservation Area Reserve and Haida Heritage Site, was established on June 17, 2010 thereby protecting the waters surrounding National Park Reserve Gwaii Haanas. Gwaii Haanas is currently the only place on Earth to be protected from mountain top to sea floor.
Walrus
© Parks Canada / Mario Cyr
Frilled anemones in Saguenay St.-Lawrence Marine Park
© Parks Canada / J-G. Béliveau
---
Establishment of a National Marine Conservation Area Network

Scenic view of Lancaster Sound
© Parks Canada / D. Yurick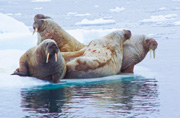 Walrus
© Parks Canada / M. Cyr
For example, Lancaster Sound was selected to represent the region bearing the same name because of its highly productive and diverse Arctic marine ecosystem, including large numbers of narwhals, belugas, bowhead whales, ringed seals, harp seals and walruses. It is also home to the largest polar bear populations in the Canadian Arctic as well as vast seabird populations.
Canada's coastal waters include parts of the surrounding Pacific, Arctic and Atlantic oceans and the Great Lakes. Parks Canada has divided these waters into 29 "marine regions".
When it passed the Canada National Marine Conservation Areas Act in 2002, Parliament stated that it is in the national interest to establish a system of national marine conservation areas (NMCAs) that represent the diversity of these marine regions. Once established, these NMCAs will be part of a unique network, protecting the diversity of Canada's marine ecosystems and fostering Canadians' discovery and enjoyment of them.
To establish an NMCA a series of steps are undertaken to identify and select an area, followed by a feasibility assessment and consultations before recommending the NMCA be established.
In each marine region an analysis is undertaken to outline its characteristics and identify the most representative marine areas within it. The site that is selected for establishment as an NMCA from among these representative marine areas must optimally portray the marine region's characteristics, such as coastal and marine habitats, geology, oceanography, biological diversity and maritime history, while also taking into consideration factors such as existing and potential marine uses, Aboriginal treaties and claims and the potential for visitor experience and enjoyment.

The NMCA system
* For a larger version of this map, click here
© Parks Canada / Wayne Roach
An assessment of the feasibility of establishing an NMCA in the selected area is carried out jointly with the provincial or territorial government involved, and with the participation of local Aboriginal communities or organizations. The feasibility assessment includes the gathering of information describing the proposed NMCA and an analysis to determine areas requiring the highest level of protection within its proposed boundaries. Ecologically sustainable use for the benefit of current and future generations is the objective for much of an NMCA. Consultations are undertaken at various stages to enable community representatives and other interests to work on developing a shared vision for the area with Parks Canada.
When the feasibility assessment and public consultations are completed, recommendations are provided to the Ministers concerned for a decision on whether to proceed to negotiation of an agreement to establish the NMCA. The final step in NMCA establishment includes the development of an interim management plan and then obtaining Parliament's approval to legally designate the area under the Canada National Marine Conservation Areas Act.
To date, four sites have been incorporated into the NMCA Network: Fathom Five Marine Park and Lake Superior National Marine Conservation Area in Ontario, Saguenay-St. Lawrence Marine Park in Quebec, and Gwaii Haanas National Marine Conservation Area Reserve and Haida Heritage Site in British Columbia. NMCA feasibility assessments are underway for two sites: Southern Strait of Georgia in British Columbia and Lancaster Strait in Nunavut. The national marine conservation area program is continually evolving.
 
Saguenay-St. Lawrence marine Parc
© Parks Canada/ J.-L. Provencher

National Marine Park Fathom Five
© D. Blanchard

Gwaii Haanas National Marine Conservation Area Reserve
© Parks Canada/ K. Alexander

Lake Superior National Marine Conservation Area
© Parks Canada / P. McCormick
---
Sparkling Waters of Fathom Five!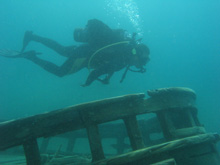 A scuba diver explores the "Alice G" shipwreck in the clear blue waters of Fathom Five National Marine Park
© Parks Canada / E. Meleg
With its green islands and clear cold water, Fathom Five National Marine Park, Canada's first national marine conservation area (NMCA), is a fascinating place. This NMCA represents the features of Georgian Bay, where the deep and sparkling waters are also home to a rich cultural legacy that includes 22 shipwrecks. There are two historic light stations on the islands within Fathom Five.
On the spine of the rocky Niagara Escarpment, Fathom Five National Marine Park has stunning beauty both above and beneath the water. Experience some of the world's best freshwater diving — novice snorkelers to advanced diving enthusiasts can explore fascinating underwater formations and the historical shipwrecks.
Relax and enjoy Fathom Five National Marine Park on a glass-bottom boat tour to Flowerpot Island and admire the incredible rock formations that are among Canada's most recognized and popular natural attractions. Hike the island's trails, explore the cave, or simply take in the flowers and wildlife.

The Big Tub Lighthouse is one of two lighthouses within Fathom Five
© Scott Currie

Flowerpot Island is named for these impressive "sea stacks" formed over thousands of years by wave action and fluctuating water levels
© Parks Canada / D. Wilkes
---
The Colours of the Caribbean... in the Saguenay-St. Lawrence Marine Park?
The Saguenay-St. Lawrence Marine Park is part of Parks Canada's network of national marine conservation areas. The marine park is home to one of the most beautiful diving sites in North America. Accessible from the Marine Environment Discovery Centre in Les Escoumins, Quebec, this site will amaze you.
The seabed is as colourful as in some southern seas. Bright pink in colour thanks to the presence of red algae that cover the rocks, are scattered throughout Green urchins, Frilled anemones, Northern Red Anemones, Scarlet Psolus and Purple Sun star. . . A true rainbow of colours, right in the waters of the St. Lawrence River.

The pink in this image is Pink Rock Crust algae. In the middle, we can see a Brittle Star which is a kind of sea star. In addition, there are a few Green Sea Urchins.
© Parks Canada / L. Falardeau

The Purple Sun star has between 7 and 14 arms. It eats other sea stars and sea cucumbers.
© Parks Canada / L. Lussier

The white parts of the Frilled Anemones are hundreds of small tentacles which they use to capture plankton.
© Parks Canada / L. Larocque
 You won't believe your eyes!
Once on site, you can also sight on whales, stroll along cliffs and enjoy breathtaking views of the St. Lawrence.

Spying the whales! Here we can see the back of a Minke Whale of 8 m. long!
© Parks Canada / M. Loiselle

Here are two Fin Whales. The biggest one is the mother and smallest is her calf. An adult can measure between 22 to 27 m. At birth the calf can measure around 6 m. and weigh 1.9 tonnes.
© Parks Canada / D. Rosset

A group of Belugas swimming through the marine park.
© Parks Canada / W. Lynch
Discover the treasures of the marine park at one of its three visitor sites:
Marine Environment Discovery Centre in Les Escoumins
Pointe-Noire Interpretation and Observation Centre in Baie-Sainte-Catherine
Cap de Bon-Désir Interpretation and Observation Centre in Bergeronnes
Open your eyes wide, enjoy a sea of activities and discover the thousands of secrets of the marine environment!  
---
Lake Superior National Marine Conservation Area: A World of Freshwater!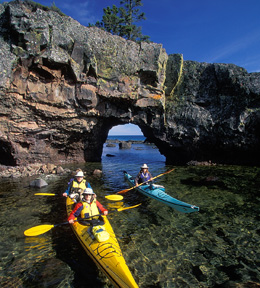 Float on the world's largest freshwater marine protected area
© GaryAndJoanieMcGuffin.com
Established in 2007, this is the largest freshwater marine protected area in the world. With over 1/3 of the world's surface freshwater supply, the Great Lakes are a significant resource for the health of our planet. The area boasts many attractions related to geology and human and natural history. Aboriginal presence dates back at least 5,000 years and continues to this day.
Cruise the wild, remote region of the Great Lakes in this corner of paradise. More than 70 species of fish inhabit the near-pristine waters of Lake Superior, the largest of the Great Lakes. Watch gulls, herons, eagles and pelicans as they feed in these waters.
As many as 50 shipwrecks rest within the Lake Superior National Marine Conservation Area, attesting to the power of the greatest of the Great Lakes.

American White Pelicans
© Parks Canada / W. Lynch
---
Lancaster Sound Proposal
National Marine Conservation Areas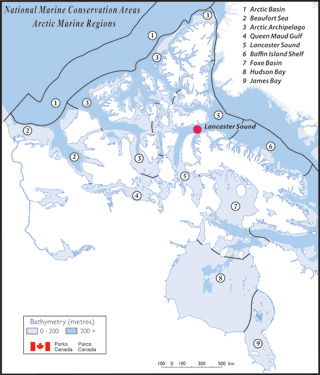 Map illustrating the nine marine regions in Canada's Arctic Ocean
© Parks Canada / Wayne Roach
In December 2009, Canada's Environment Minister and Minister responsible for Parks Canada, the federal Minister of Health, the Acting President of the Qikiqtani Inuit Association (QIA) and the Minister of Environment for the Government of Nunavut (GN) announced the beginning of a feasibility assessment for the proposed establishment of a new national marine conservation area (NMCA) in Lancaster Sound.
One year later, on December 6, 2010, the federal Minister of the Environment, the Minister of Indian Affairs, the Minister of Natural Resources and the Minister of Health jointly announced the Government of Canada's position on a potential future boundary for the NMCA and underscored the government's commitment to protect the marine waters and wildlife of Lancaster Sound. The announced potential boundary encompasses of 44,300 sq km in Lancaster Sound as well as Eclipse Sound and provides the basis for community consultations and other steps that must now follow as part of the feasibility assessment. While these consultations take place, no exploration or development of petroleum resources will occur within the proposed boundaries.
Lancaster Sound ("Talluritup Tariunga" in Inuktitut) is the eastern entrance to the Northwest Passage, the legendary corridor through Canada's Arctic Archipelago. It is an area of critical ecological importance to marine mammals, including seals, narwhal, beluga and bowhead whales, as well as walrus and polar bears. It is bordered by some of the largest Arctic seabird breeding colonies whose populations total in the hundreds of thousands.
As it continues, the feasibility assessment will gather further information on the area's natural and cultural resources, and it will study the potential economic and tourism impacts and benefits of a NMCA. Extensive local consultations will be undertaken. The study is expected to conclude with recommendations on whether to establish the proposed NMCA and under what conditions. If the parties agree that an NMCA should be established, an Inuit Impact and Benefit Agreement will have to be negotiated as the next step.
About one-third of Eastern Canada's colonial seabirds breed and feed in Lancaster Sound, including more than 700,000 pairs of thick-billed murres, black-legged kittiwakes and northern fulmars.
© Parks Canada / I.K. Macneil
This is one of the richest marine mammal areas in the world. Most of the world's narwhal and a third of North America's belugas, as well as the endangered eastern population of bowhead whale, spend the summer in Lancaster's waters.
© Parks Canada/ Mario Cyr
---
Southern Strait of Georgia Proposal - National Marine Conservation Area Reserve
Connecting the Land, the Water and the People
The Strait of Georgia marine region is the smallest of the five Parks Canada marine regions on Canada's Pacific coast, and the most intensively utilized by British Columbians and the many visitors who enjoy these waters each year. Its seascapes range in diversity from the fjords of Desolation Sound to the extensive mudflats of Boundary Bay, from the cloudy sediment plumes flowing from the Fraser River to the clear waters among the southern Gulf Islands. The rich subtidal communities provide some of the best scuba diving in North America, and these waters are well known for their world class opportunities for pleasure cruising in vessels from yachts to kayaks.

Kayaking is a nice way to explore the marine world!
© Parks Canada / G. Skinner
The governments of Canada and British Columbia joined forces in 1995 through the Pacific Marine Heritage Legacy to protect these values through an expanded system of marine and coastal protected areas focusing initially in the southern Gulf Islands and the southern Strait of Georgia. In addition to the establishment of Gulf Islands National Park Reserve and additional provincial protected areas, Parks Canada and British Columbia are undertaking a study to assess the feasibility of establishing a national marine conservation area reserve in the southern Strait of Georgia, including the waters surrounding the national park reserve. This study area covers around 900 sq. km.
Subtidal communities throughout the island waters are rich and varied and include anemones, sea urchins, a variety of crabs and sea stars, and Pacific octopus. herring, the five species of Pacific salmon, Pacific cod, lingcod and several species of rockfish are common, although past levels of fishing have left some populations in depleted condition. Harbour seals and Steller's and California sea lions are frequently observed. Orca (killer whales), harbour porpoise and Dall's porpoise are also common in the area. Small colonies of glaucous-winged gulls, pelagic and double-crested cormorants are scattered throughout the area, as are breeding sites for bald eagles and pigeon guillemots. The marine waters are particularly important to migrating and wintering populations of loons, cormorants, grebes, murres, gulls and ducks.

Steller sea lions are part of the pinnipeds familly that include seals and walrus. Sea lions have sensitive and long facial whiskers which they use to sense prey and feel their way underwater.
© Mark Heibert

North Pacific Giant Octopus is the largest octopus in the world and we can find them in the Strait of Georgia! They measure 3 to 5 m. long.
© Mark Heibert

Orca will often hunt around kelp forests, places where many marine species, including salmon and herring, feed or take refuge.
© Parks Canada / J. McCullough
The southern end of the Strait is the most heavily utilized and impacted of all the marine regions on the west coast of Canada. Increasing urbanization and associated economic activity in the region have created stress on the marine environment, and there is visible evidence of significant habitat alteration and loss, deteriorating water quality and declining populations of many species. Parks Canada and British Columbia are working with local governments, First Nations and a host of stakeholders achieve the protection of the proposed NMCA reserve in the southern Strait of Georgia in manner that will permit Canadians to continue to enjoy and discover this unique area.